Before I started my university degree, I spent hours scouring the internet to find out what I needed to pack. One of the areas I especially wanted to 'get right' was my closet. College was a chance to start over, and I wanted to make a good impression by looking cute and put-together — but I had no idea which clothes to pack for college, or how much. How many pairs of underwear or socks should I pack? (Two weeks' worth.) Did I need a rain jacket? (Yes.) Should I invest in a whole new wardrobe? (NO!)
To help you avoid the questions and anxiety I had over which clothes to pack for college, I put together this quick guide, with some helpful rules of thumb, FAQ's, and a free packing list printable. You can get the password by subscribing to my mailing list!
Three Don'ts for Packing College Clothes
It's easy to get swept away in the excitement of college planning, so before you grab the entire contents of your closet and dump it into a bag, keep these three gentle "don'ts" in mind.
Don't bring too much. Figure out how often you'll be coming home, and plan accordingly. If you'll see your parents at Thanksgiving, leave your winter clothes at home and just bring some summer and fall clothes when you first arrive. If you won't go home until Winter Break, bring some summer, fall, and winter clothes. If you won't be home all year, bring it all.
Don't bring things that don't "fit" you. College is a time to start fresh, but you're still the same person. If you don't feel comfortable in a certain outfit, or you just can't be yourself in a dress, don't bring them. They'll end up hanging untouched in your closet anyway.
Don't forget the basics. It's nice to dig out your favorite rain boots, or buy a winter coat for the first time. But don't get so swept up in the exciting items that you forget basics, like bringing enough socks, shoes, and underwear. My guideline is to bring enough socks and underwear for two weeks.
Alright, so now we know what not to do. But what should we know or plan before we start packing?
3 Key Factors in Which Clothes to Pack for College
Time frame. Are you packing for the first two months of the semester, or for the whole year? This depends on how often you can go home to see family and switch out clothes.
Climate. Think about your college's environment and climate before you pack. Will you need clothes for hot, arid weather? Snowy days? Lots of rain? Consider taking a look at this week of weather at your college, or reaching out to a current student you know to ask what kind of weather to pack for.
Occasions. An athlete who likes to go party the city on the weekends will need to bring different clothes than a college student who prefers to stay in or explore a museum. Think about the kinds of occasions you'll experience at college. Will you need a lot of work-out clothes for early-morning jogs? Party clothes for the weekends? Professional outfits for your internship? Try to be realistic. If you don't like to party, you won't need to bring two backless sequin dresses.
The College Clothing Packing List
Sometimes what's most helpful isn't just a list of principles, but an actual list of what to bring. For that reason, I've put together a potential packing list for college. Before you read it, please remember that everyone is different; you certainly don't need all these things to fit in at school or be prepared for the year. In fact, I brought significantly less to school when I moved in, but I wanted to make a comprehensive list that you could cut and customize to your needs. When in doubt, go with the cardinal rule: pack enough clothes for two weeks and weather conditions.
Before we get to the list, I wanted to let you know that I made the list into a cute and easy-to-access printable with my suggestions and recommendations for which clothes to bring to college. The printable is accessible in my free resource library for email subscribers. If you're not a subscriber yet, you can sign up for my mailing list here to get the password to my resource library! Once you have your password, you can click on the resource below to lead you to the resource library.
Basics
Underwear and bras
Socks
Athletic shoes
Casual shoes / everyday flats
Shoes for in the dorm / slippers
Shower shoes
Formal shoes for an internship or business setting
Event shoes for if you like to go out
Rain or snow boots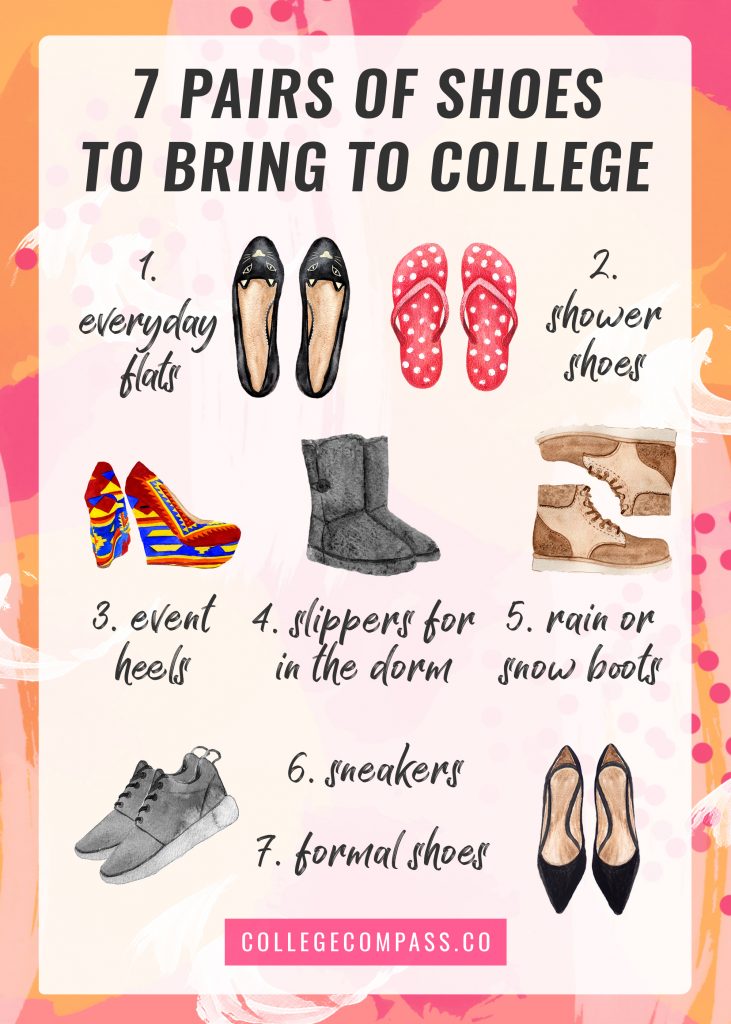 Casual clothes
Jeans
Shorts
T-shirts and tank tops or camis
Casual tops or blouses
Sweaters or cardigans
Lounge clothes
Leggings
Sweatshirts
Casual, comfy t-shirts
Pajamas
Exercise/running clothes
Occasion clothes
An interview-appropriate outfit
A formal outfit or dress
Clothes for going out
A costume for Halloween or a party
Outerwear and Other
Light jacket
Rain jacket (for colleges in rainy climates)
Winter coat (for colleges in cold climates)
Vest (optional)
Swimsuit (optional)
Accessories
 Jewelry
Watch
Wallet
Belts
Scarves
Winter accessories – hat, scarf, and gloves (for colleges in cold climates)
Umbrella (for colleges in rainy climates)
Backpack
Medium-sized purse
Tote or duffle bag
Sunglasses
Tights
Do you have any specific college prep questions? What is one clothing item you couldn't live without in college? Let me know in the comments below.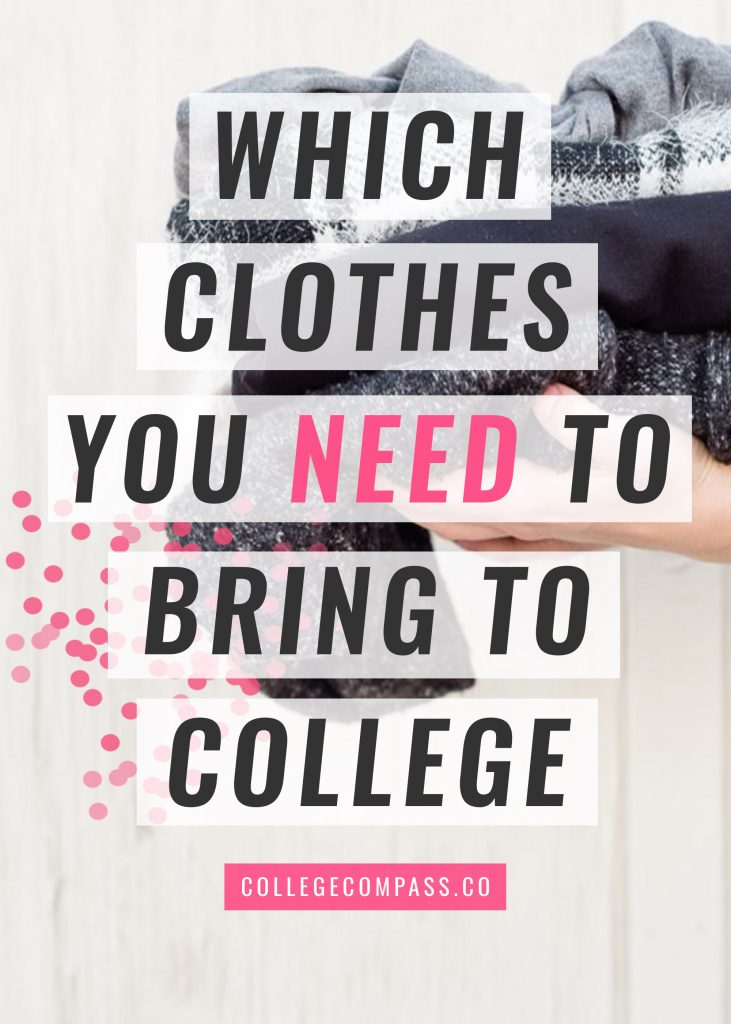 This post was originally published SaraLaughed.com. It has been modified and improved for use at College Compass with permission of the author.