Hello friends! My name is Amanda and I am absolutely thrilled for the opportunity to join such fabulous and inspiring bloggers here on College Compass. I am starting my junior year as an Environmental Studies major at Wellesley College.  I'm most passionate about the role that the environment, specifically environmental justice, plays in the lives of people. I love sightseeing on long road trips and eating avocados with a spoon. I have a lot of energy and never fail to laugh at a good pun.  I don't like to think too far into the future but when I do, I see myself as the first female extreme couponer to win American Ninja Warrior.
This semester, though, I am taking my studies away from Wellesley, where I am beginning a SEA Semester program. Over the course of this program, I will spend 6 weeks sailing through the Mediterranean, studying the history and culture of coastal regions in order to better understand environmental issues. Through studying historic seaports of Western Europe, I will take classes and conduct research about the relationship that people have had with their environment through time and how that has influenced social, economic and political structures. Once aboard in Europe, my classmates and I will be a part of the crew, learning all aspects of operating a sailing research vessel in addition to taking classes and conducting research.
I really didn't intend on spending the semester on a boat. I actually get horribly motion sick in anything that moves — planes, cars, boats, probably time travel machines, etc.  I wasn't even sure I wanted to study abroad. The idea of studying at another institution for a semester was not that appealing to me and most of the programs for environmental studies majors are field studies in conservation and resource management. I've heard really great things about these programs from some of my friends, but my interest in the environment is focused on the relationship between the environment and humans. Maybe there are other programs out there that fit this specific academic niche, but I found SEA first and just ran with it.
You can check out the map to see some of the port stops for this voyage.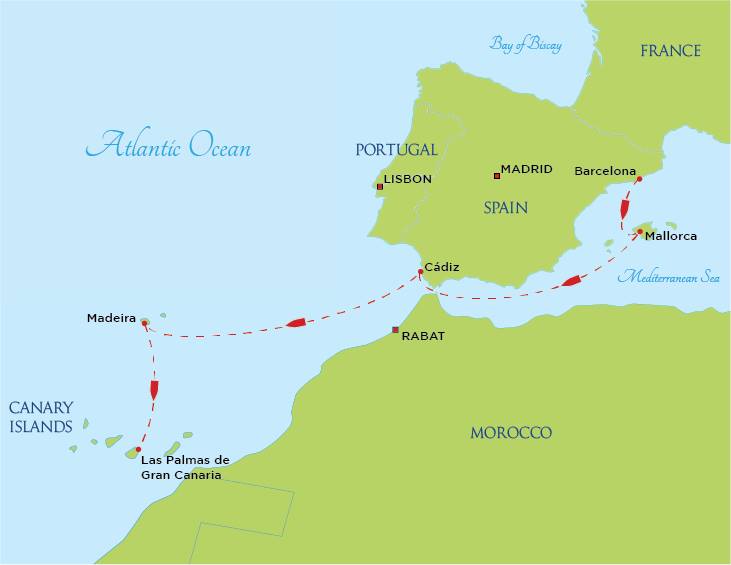 Program Map courtesy of Sea Semester
I almost can't believe this is actually happening. A real life fanta-sea. I'm wave-ing goodbye to Wellesley and getting ready for a great sea-mester! Join me as I figure out how to manage sea sickness and explore the natural beauty of coastal Europe! Sea you around!