Planning which clothes to pack for college can be overwhelming, especially if you're new to the area where you'll be going to school! That's why I reached out to 40 college students around the country to ask their best advice for new students. If you don't know which clothes to pack for college in the northeast, read below!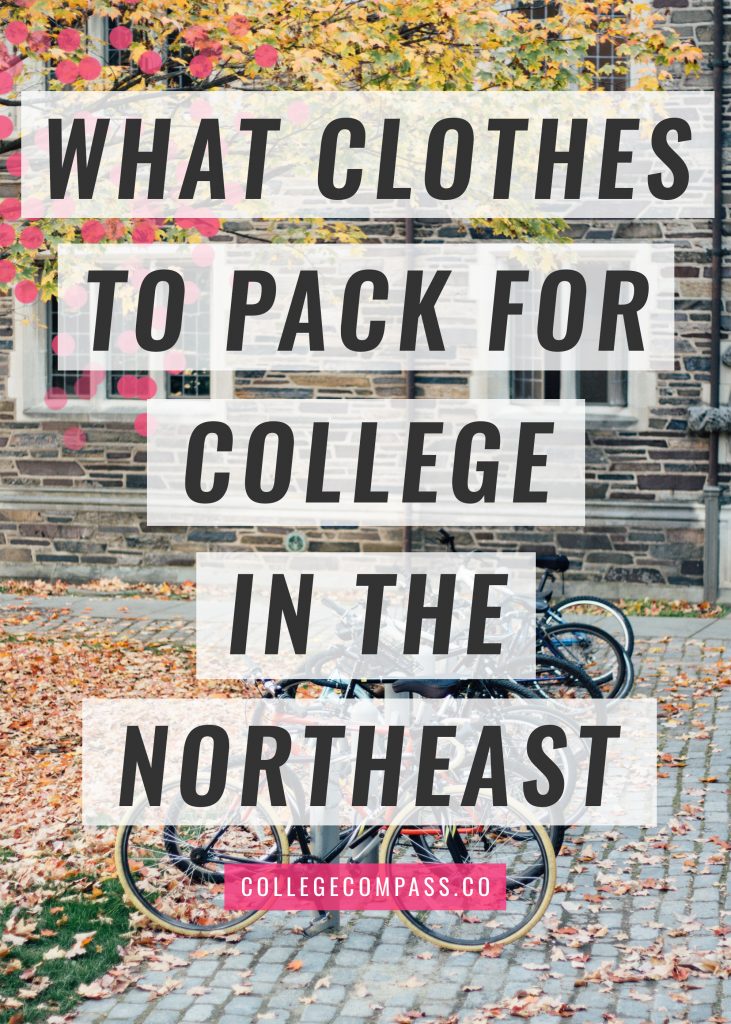 Connecticut
Maine
Massachusetts
New Hampshire
Rhode Island
Vermont
The Northeast can be a challenging place to pack for, especially if you come from somewhere warm. With vivid seasons (sweltering summers, freezing cold winters) and weather that changes daily, it's hard to know what to expect! That's why I polled forty college students and bloggers to ask them what their most important must-haves are for attending school in the Northeast. In addition to the clothes I recommend to bring to college in general, check out these essentials!
Factors to Consider when Packing for College in the Northeast
There's a lot of variability in Northeastern weather, so if you're packing for the whole year, bring lots of layers and variety! Take a look at the average temperatures during the fall semester below, as well as some advice on what to think about when packing.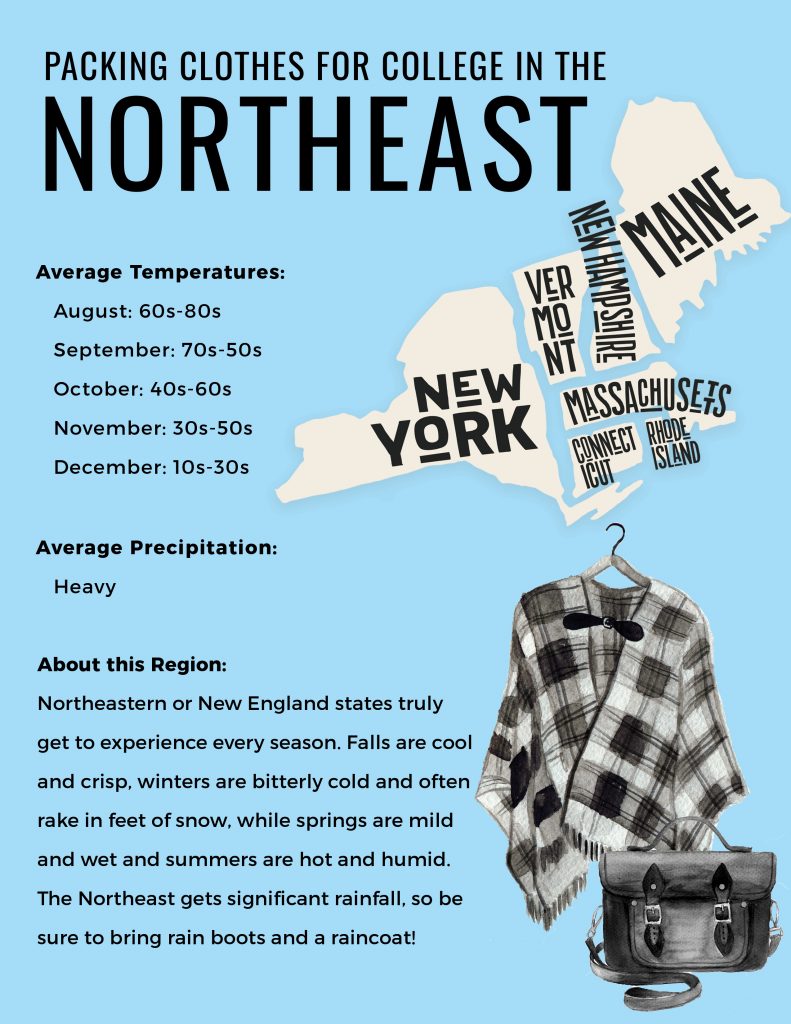 Must-Haves to Pack for College in the Northeast
I polled a group of 40 college students and bloggers to ask for their opinions on the "must haves" to pack for a college in their area. Of the Northeastern responders, 75% said rain and snow boots! With the amount of rain and snow that the Northeast gets, it's important to make sure your feet are outfitted for the cold and the changes in weather.
I personally attended college in the Northeast, and for me the best option was a duck boot, which can withstand both rain and snow. Though they may seem pricey, you're saving on the cost of a second pair of rain or snow boots by getting a pair that can handle both!
Other responders emphasized how important it is to have a versatile and layered jacket. I can't agree more! I got a two-layered coat so I could wear just the inner shell in the fall, the outer shell when it rained, and both together for cold weather. Again, they're pricey but they'll last you all four years (and some after that, as well!).
Other essentials for me included general outdoor weather gear: gloves (the kind you can use with a touchscreen phone are a great investment), a hat and scarf, and warm socks. The winters are famously frigid in New England, so be sure you come prepared — especially if you come from somewhere warm!
If You're on a Tight Budget
A solid winter coat and a nice pair of waterproof boots can really add up. If you're on a budget, there are always cheaper options of everything available, and you don't need the most expensive option to get a choice that lasts. However, don't go for the very cheapest, as you'll save more money in the long run with one good pair than if you ended up needing to replace a cheap pair of boots every year.
I asked a close friend of mine what she did when moving to New England from a warmer climate while on a budget. She said, "I bought the cheapest options within what was new, but I basically decided that those two items [boots and a coat] were the most important and were worth spending on… because I also realized that was the coat I'd be wearing every day for months for 4 years."
If you're having trouble getting together the money, you could ask for multiple people to pitch in as a birthday or early winter gift for you. If that's impractical, Goodwill and other second hand stores in the area where you'll be attending school will probably have options appropriate for the weather there. My school also had something called the Student Aid Society, where students could donate unwanted clothing to each other. If your school has something similar, see if they have any winter gear available in your size.
What Our College Experts Say on Packing Clothes for the Northeast
"Always pack for the season… rain boots are a must when walking to class in Connecticut!." – Kara (Fit Chick Next Door)
"I went to school at the University of Maine where it's cold for what feels like half of the year! Warm socks, Hunter boots or L.L. Bean boots, and a really good coat are essentials for when you're trudging to class in the snow and wishing that a snow day got called. Layers are absolutely KEY as you often walk to class in 30 degree weather and then sit in a 70 degree classroom." – Mackenzie (Brunch on Sunday)
"Pack few clothes that can transition through the seasons! There isn't too much "summer weather" so don't bring seasonal wardrobes." – Alexandria (AM Eisenhardt)