Long-time readers of College Compass know how much I care about keeping college affordable, which is why I'm sharing this Amazon Prime Student review with you today.
Just a head's up that this is an affiliate review – it's not sponsored, but I may get a small kickback if you sign up through my link. Learn more here.
I first signed up for Amazon Prime Student five years ago, in the summer before I started my freshman year at Wellesley. Throughout college, Amazon ended up saving me over $730 in shipping alone, plus even more on things like textbooks and school supplies. There are tons of student discount programs around, but Amazon Prime Student has by far saved me the most money, which is why it's repeatedly been my #1 recommendation for college students.
Today I'm going over how I saved $700 with Amazon Prime Student, how to know if you should sign up, and how to get 6 months free!
What is Amazon Prime Student?
If you haven't heard of Amazon Prime Student before, you may be wondering what it is. Amazon Prime Student is essentially a student discount program, where college students get free shipping, discounts, and access to Amazon programs for half the price of a regular Amazon Primer membership. Some of the Amazon Prime Student benefits include:
Free two-day shipping on millions of orders
Unlimited streaming of Amazon Prime shows like The Man in the High Castle or Good Girls Revolt
Free access to Amazon Music playlists
Unlimited photo storage through Prime Photos
Student-specific deals and discounts
How Much Does Amazon Prime Student Cost?
A normal Amazon Prime membership costs $99 for a year; Amazon Prime Student is half that, at $49 per year. However, if you sign up through this link, you can get 6 months of the program for free before getting the half-off deal!
Essentially, if you sign up through my link, it makes Amazon Prime Student free for 6 months, and only $50 per year after that.

Is Amazon Prime Student Worth It?
That depends on you and your situation. For me personally, Amazon Prime Student was absolutely worth the $50 annual fee, because I ended up saving more than $730 on shipping alone, excluding student discounts and the reduced prices on Amazon (more on that below). If you're planning on ordering through Amazon often, it's definitely worth it to sign up for their Prime Student program, but if you don't shop online a lot, you might want to start with the free trial and see how often you use it. You can always cancel before your trial runs out if you decide you're not using it enough.
To show you how I save money, I found the required textbook list for a class in my department. I went to the site of my school bookstore and put all the books in my cart, and then did the same for Amazon.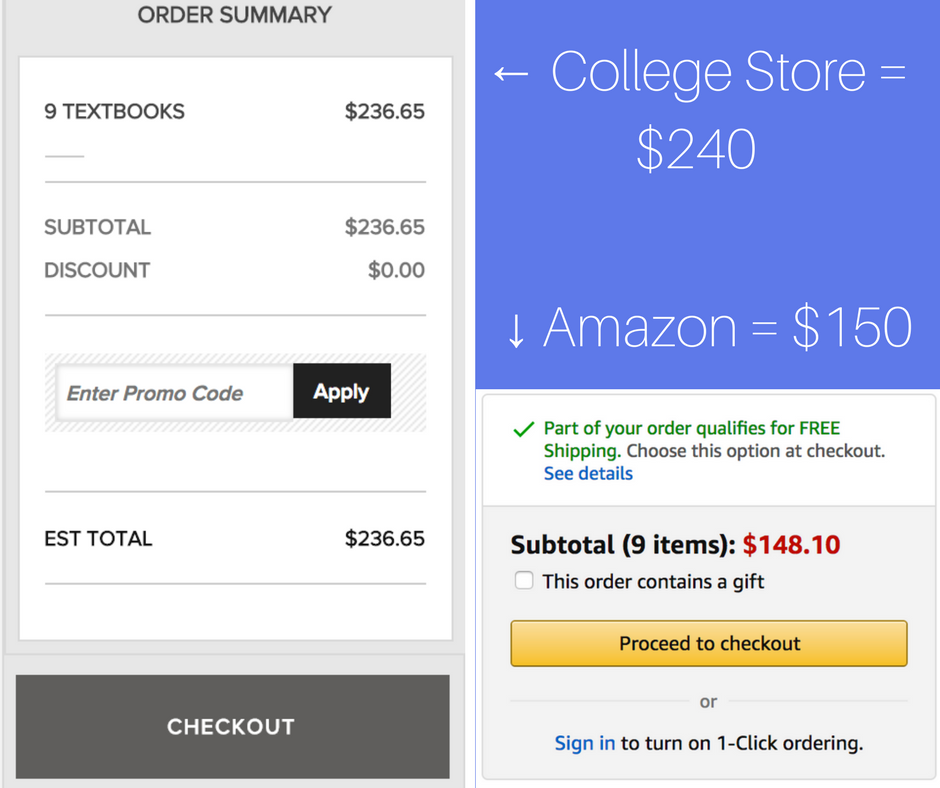 Without looking for any discounts, ordering used books, or even renting any of the textbooks, there's already almost a $100 difference between the checkout fees. That's the cost of the books alone, excluding the free shipping you get through Amazon. If you want to save even more money, you can get used books or rent used textbooks to dramatically reduce the cost even further.
For me, the dramatically reduced cost of books and supplies, the free shipping, and the access to other Amazon services, made Amazon Student Prime completely essential while I was in college, and definitely worth the $50 annual fee. But remember, if you're still not sure, you can get the free six-month trial to help you decide. Get access to your free six-month trial here!
Get 6 months free of Amazon Prime Student!