In the summer before my freshman year, one of the things I wanted to learn about most what clothes to bring to college. I didn't find a lot of resources on which clothes to bring, so I ended up bringing almost everything I owned — weighing down my limited luggage and taking up too much closet space once I got to school.
In the years since, I've gotten really interested in capsule wardrobes: a limited number of clothing items that you remix and repeat for a season. If you've ever looked at an overflowing closet and felt like you just had nothing to wear, then a capsule wardrobe might be for you. By limiting our closets to the items we really love, we stop having "bad outfit days" and save a pretty big chunk of change that would've gone to impulse buys. Especially for college students, who have limited budgets and closet space, a capsule wardrobe is a great option. That's where the college capsule wardrobe comes in.
What is a College Capsule Wardrobe?
A college capsule wardrobe is supposed to add freedom and joy back into your wardrobe. By limiting your closet to the items that you love and need, that look good on you, and that you feel good in, you're cutting out "bad outfit days" and cutting your impulse spending, too. Plus, you'll look great and save time in the morning. How great is that?
Here's how the college capsule wardrobe works: limit your closet to 36 items, including shoes and outwear, and excluding pajamas, underwear, and accessories. Don't panic! It's totally doable and you'll still get a ton of variety.
The number 36 is based on the number of clothing items the average American woman had in 1930. (Now the average is 120 — I was so surprised when I heard that!)
For one season, you wear those 36 items exclusively. You can remix the outfits and find new ways to wear them; I'll get to more on that later. Towards the end of the season, you research which items you want to add to your collection for the new season, and you can make some swaps once the new season starts.
For college students, what you'll have in a capsule wardrobe will actually be more remixable than for a lot of adults, because you don't need as much office-wear. Even more freedom and fun in your wardrobe — score!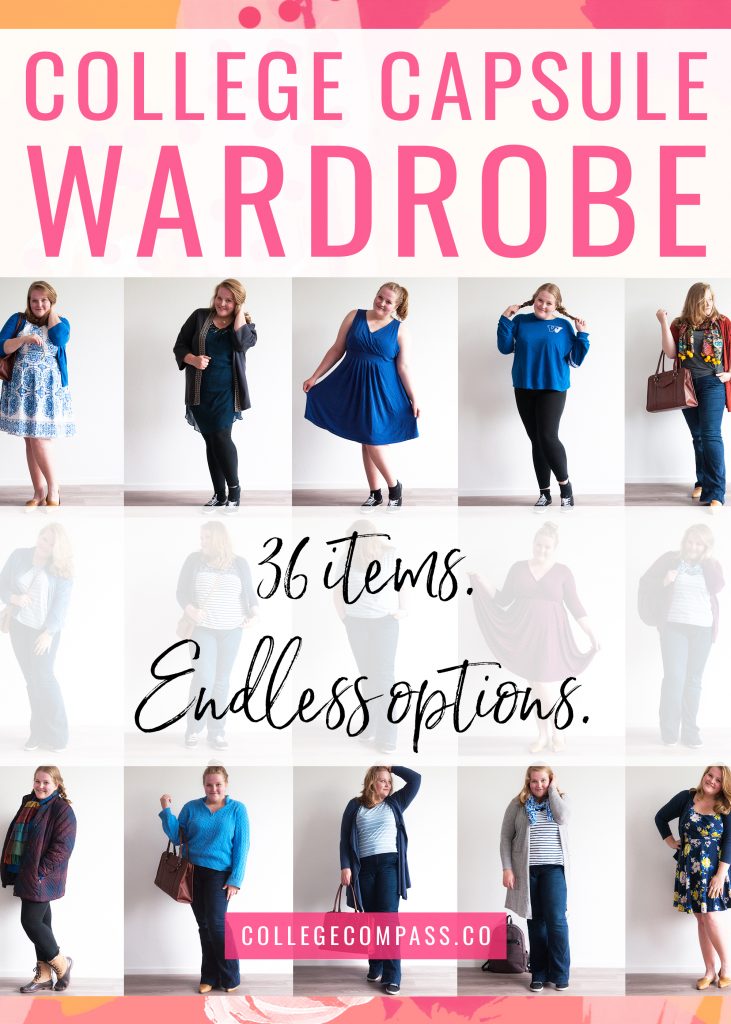 Join the College Capsule Challenge
If you'd like to cut down your time in the morning, save on clothes, and wear only outfits you love every day, then you should join the College Capsule Challenge! It's free, fun, and environmentally-friendly (because you're cutting out fast fashion and focusing on the clothes you love). Here's how it works:
1. Download the free College Capsule Planner
Download our free printable college capsule planner and get to work assessing your style and clothing needs. Take inventory of your closet and put away the things you don't love and need.

2. Read this post to learn how to structure your College Capsule Wardrobe
This post includes tons of information on how to go about structuring your college capsule. We talk about the seasons you can adjust your wardrobe to (but you don't have to wait until a new season starts — you can start today!), what to think about when you're structuring your college capsule wardrobe, how to take stock of what you have and turn it into what you love, and even show you an example wardrobe and tons of sample outfits. Bookmark this post or save it on Pinterest to get inspiration when you feel stuck.
3. Tell People You're Joining the #CollegeCapsuleChallenge
Share about your challenge on social media and encourage people to join you! I'll be checking the hashtag #collegecapsulechallenge on Instagram and Twitter, so if you post about it there I can come give you a virtual high five for being awesome.

What to Consider for Your College Capsule Wardrobe
When deciding on what kind of clothes to include in your college capsule wardrobe, it's important to ask yourself a few questions:
Which items do I love and wear often?
Which styles and colors work well on me?
What kind of events will I need outfits for?
As a college student, the day-to-day activities that you dress for will vary less than they will after you graduate. You can wear similar outfits to class, to club meetings, and to office hours. That said, there are a few college-specific occasions you might want to keep in mind, and some things you want to consider for each one.
In class: do you like to be noticed in class, or do you prefer to be comfortable?
Studying and dorm life: What kind of clothes are you most comfortable in? Are those clothes you'd wear in your dorm's common spaces, or in the library?
Club meetings: if you're in Habitat for Humanity, you'll need sturdy clothes to build in; if you're in a dance troupe, you'll need exercise clothes; if you're on the Board of Trustees as the student representative, you'll need more business-appropriate outfits. Think of the clubs you're in or would like to join and take those activities into consideration.
Internship: are you interning somewhere this semester? What's their dress code?
Game day: is your school big on sports? Bring some clothes in your school colors to wear to games and parties.
Date night: if you're planning on dating in college, think about the kinds of outfits you wear on a date.
Night out: if you like to go out to parties, you'll have to bring clothes for that. If you like to go to fun events in the city, like gallery openings or poetry readings, think about what you'd normally wear at those events.
Formal wear: Will you be attending any formal or semi-formal events this semester? Having one outfit that's appropriate for an event like that is always a good idea.
Religious services: If you're religiously observant and attend services at a house of worship, it's a good idea to bring outfits that you would feel comfortable wearing during a service.
Outerwear: Lastly, depending on which region of the country you go to school in, you'll want to bring weather-appropriate outerwear for the season.
College Capsule Wardrobe Seasons: When to Transition Your Clothes
For most people who have a capsule wardrobe, they structure their seasons like this:
Fall: September to November
Winter: December to February
Spring: March to May
Summer: June to August
For college students, I think it makes sense to structure them differently, based on when you can go home to get new clothes. The ideas below are just rough guidelines; when you structure your seasons depends on how often you go home and what the climate is like in your area. I know for New England, I needed winter clothes until well into March, but if you go to school in Texas, you may not need snow boots all year. Here's what would work for me in a cooler climate:
Fall: late August to Thanksgiving
Winter: Thanksgiving to the Spring Break
Spring: Spring Break to the end of the semester
Summer: Summer break
If you go to school in a warmer climate, it might make more sense to structure your seasons like this:
Fall: Fall Semester
Winter: Winter Break
Spring: Spring Semester
Summer: Summer Break
How to Make Your College Capsule Wardrobe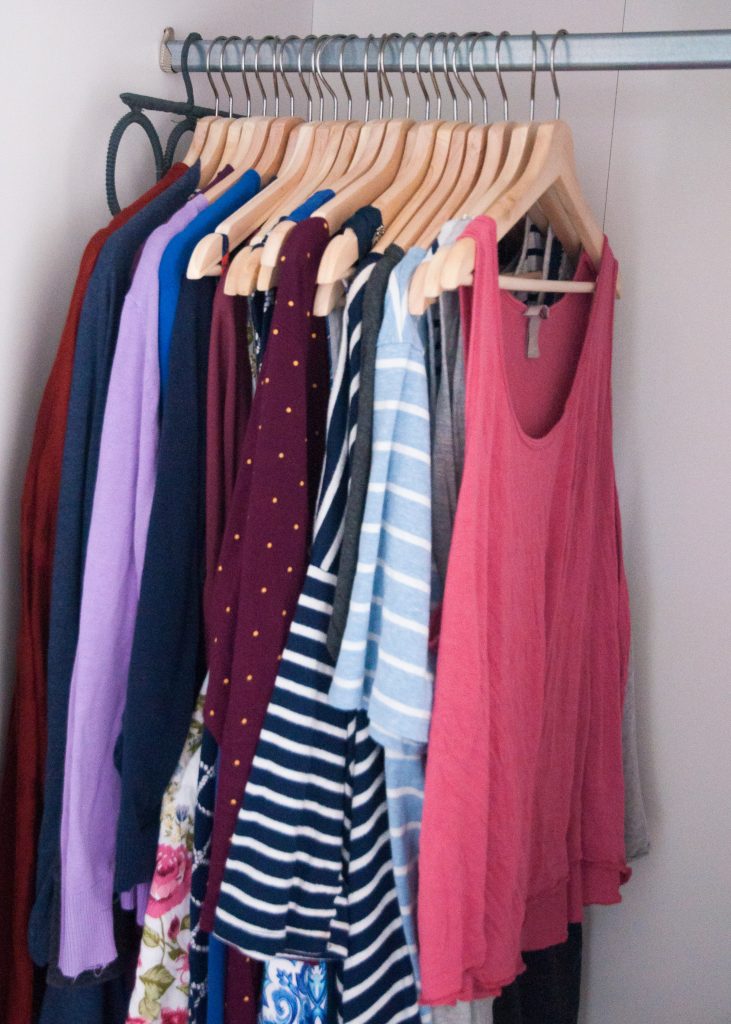 Taking stock
After you think about the kinds of events you'll be dressing for most often, and what those events entail in terms of clothes, take a look at your closet. Take out everything and lay it on your bed or, if it's clean, the floor. Count the items you have and write them down in a notebook, and put a star next to the items you actually wear regularly.
How many items do you wear regularly? How many items do you wear sometimes? How many items have you not touched in a year or more? (Lookin' at you, bat mitzvah dress.)
Thinking about color
Look at the colors that you gravitate to most. If you're not sure which colors you like (I'm a rainbow fan, myself), think about which colors you get the most compliments on when you wear them. Do people ever talk about which colors bring our your eyes or look good on your skin tone? If you're still stumped, try a seasonal color analysis to see which colors would flatter you. These two guides may help.
Paring down
The next step is to start putting away the clothes you don't need or want right now. How hard core you go on this step is up to you. I don't think it's wise to just start rabidly throwing away and donating everything that doesn't meet the famous Konmarie "does this spark joy" test. Most of those clothes, even the donated ones, will likely end up in landfills.
Instead, I recommend getting a few storage boxes from the attic and putting the clothes you haven't worn or don't think you'll need in there. Put the box under your bed (or, if you don't have a box, put the rejected clothes on a separate shelf of your closet or in a distinct drawer) and try not to touch them for a week. While living with your limited closet, see if there are items in the box that you miss or want to grab. At the end of your experiment week, add those pieces and swap out any from your smaller wardrobe that you didn't make use of. You're not throwing away these clothes: just saving them for later. You can donate them eventually.
Try to pare down your closet to 36 items. If you're not sure how to set up or structure your capsule wardrobe (how many shirts/pants/dresses do I need?), the next part of this blog post should help you out.
Sample College Capsule Wardrobe
This is just an example from my own closet, not one that you need to replicate. Remember that everyone's style is different; I like to wear a lot of dresses and cardigans, and if your style leans more to edgy clothing or something different from mine, you can substitute out shirts and pants for the dresses I have.
(This post contains a few affiliate links. Please read my affiliate disclosure for more info!)
Shoes: 3
Pants: 3
One pair of dark-wash jeans
One pair of medium-wash jeans
One pair of black stretchy leggings
Shirts: 8
Three tank tops: one simple tank top, one with a rhinestone rim, and one with am embellished neckline
Two tee shirts: one light blue striped shirt, and one loose-fitted gray shirt
One three-quarter-sleeved shirt: a loose navy striped shirt
One long-sleeve shirt: a Wellesley spirit jersey
One beaded tunic top
Sweaters: 2
Two quarter-zip cable-knit sweaters: one light blue and one dark blue
Cardigans: 7
3 knee-length cardigans or flutter cardigans: one sienna, one dark blue, and one gray
4 regular cardigans: one light purple, one dark purple, one navy, and one bright blue
Dresses: 10
Two nice dresses for semi-formal events and church
One maxi dress for semi-formal events (dressed up) and casual days (dressed down)
Seven day dresses
Outerwear: 3
One jacket for fall
One coat for winter
One wide-sleeved embroidered jacket
Total items: 36
These outfits have gotten me through every occasion on the list above, and then some. While it might seem strange to have so many cardigans, they help me make the most out of my shirts and dresses; I can wear each shirt or dress with each cardigan and multiply my options.
If you don't like dresses, it might help you to consider colored pants. You can drastically increase the amount of outfits you have just by adding one or two pairs of colored pants. To read more about this, check out this post from Putting Me Together on the importance of colored bottoms.
Styling Your College Capsule Wardrobe
If you come from having a huge, overflowing closet, it might be hard to imagine that you can get a lot of versatility out of 36 items. That's simply not true! Especially if you add a few scarves or have a few different purses, you can get a great amount of wear and variety out of a limited wardrobe.
To show you, I put together 16 outfits yesterday for the different occasions and events described above. I am absolutely not a fashion blogger, but I wanted to show you how many different outfits you can get out of limited options. The outfits were put together using about half of my 36-item closet. Think of how many more outfits you could get if you used all of it!
In class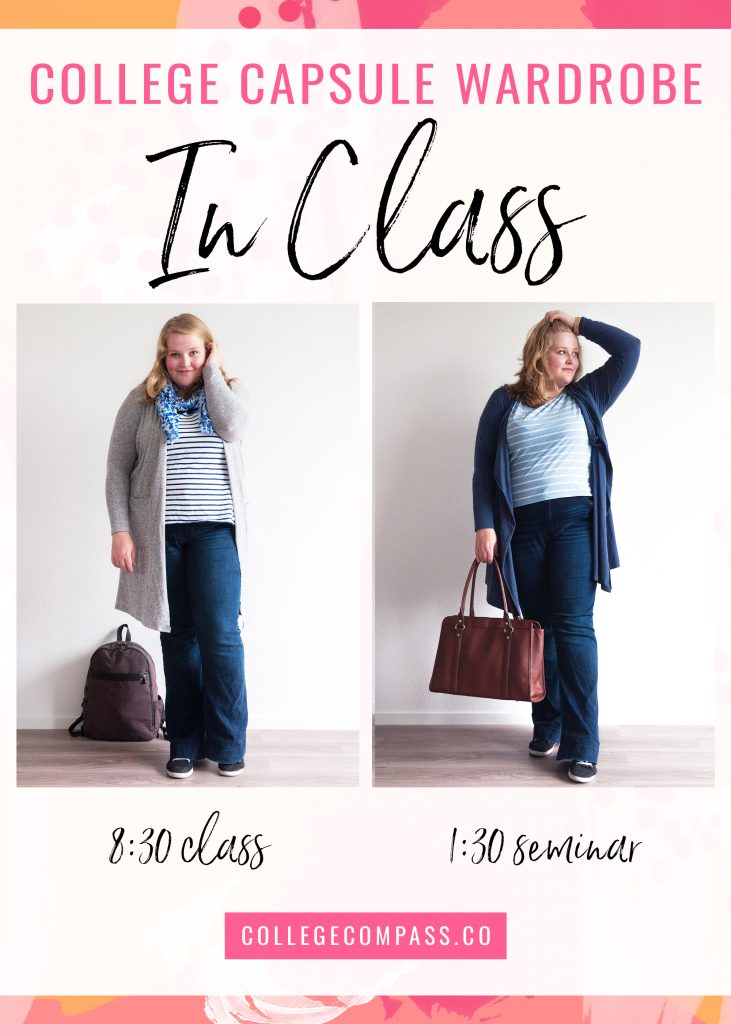 Studying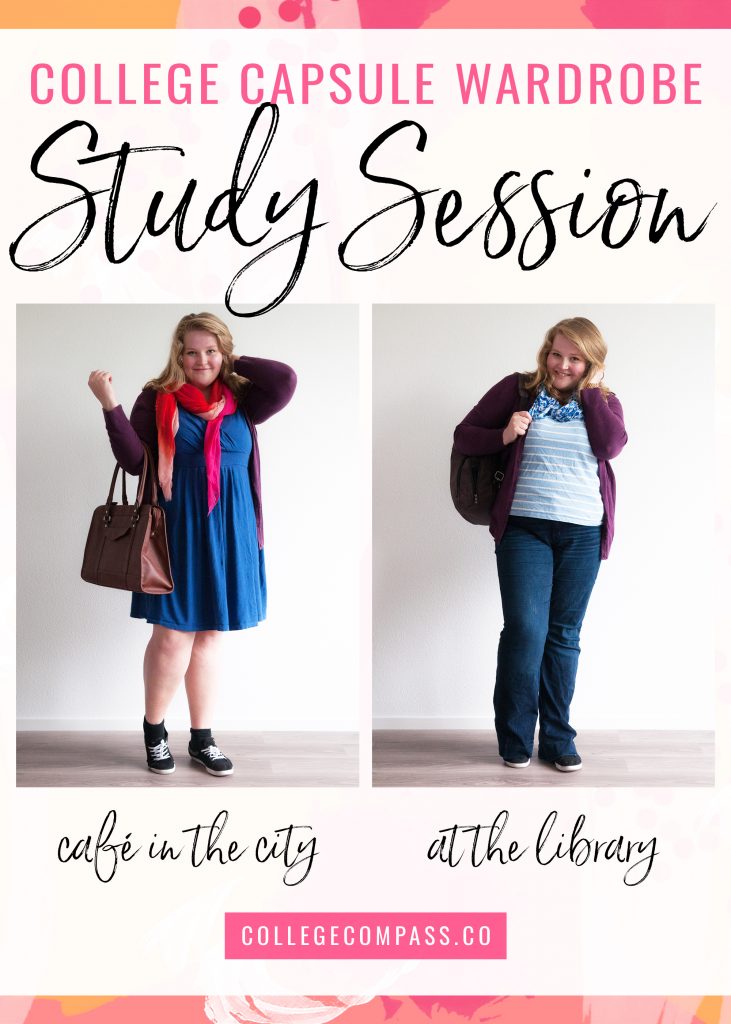 Club Meeting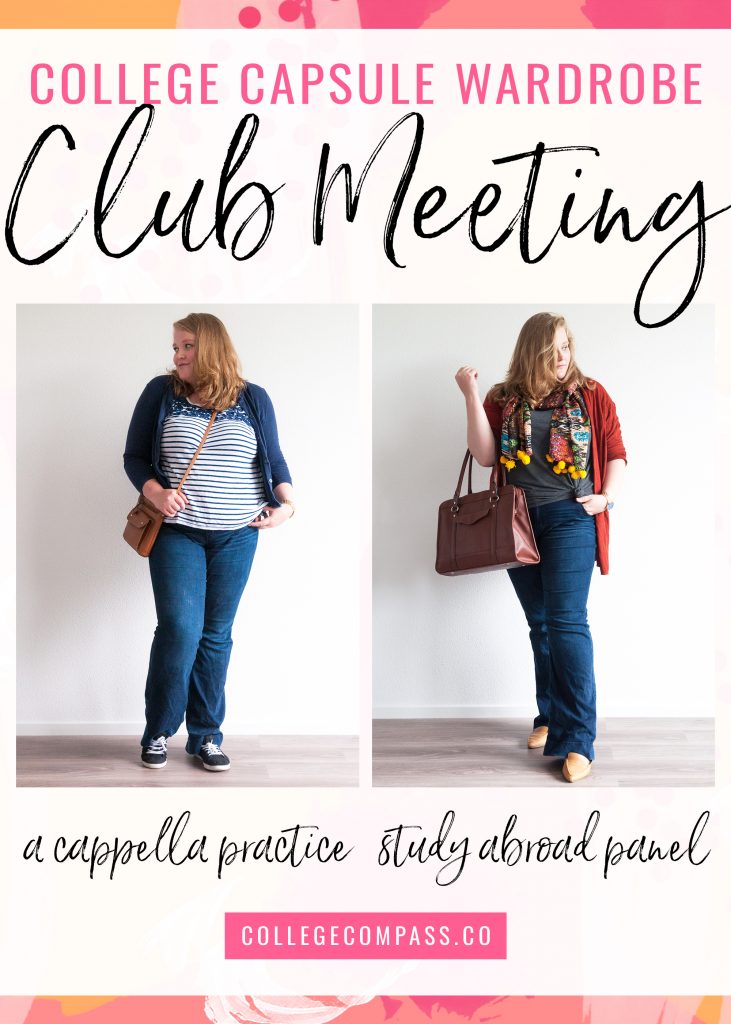 Internship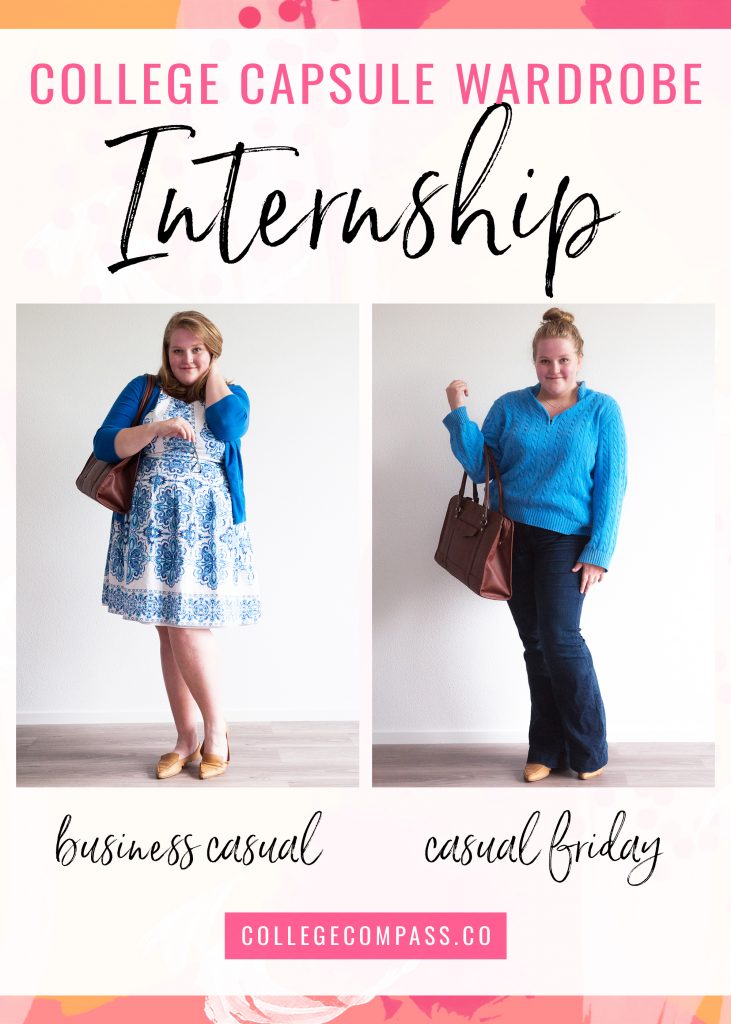 Game Day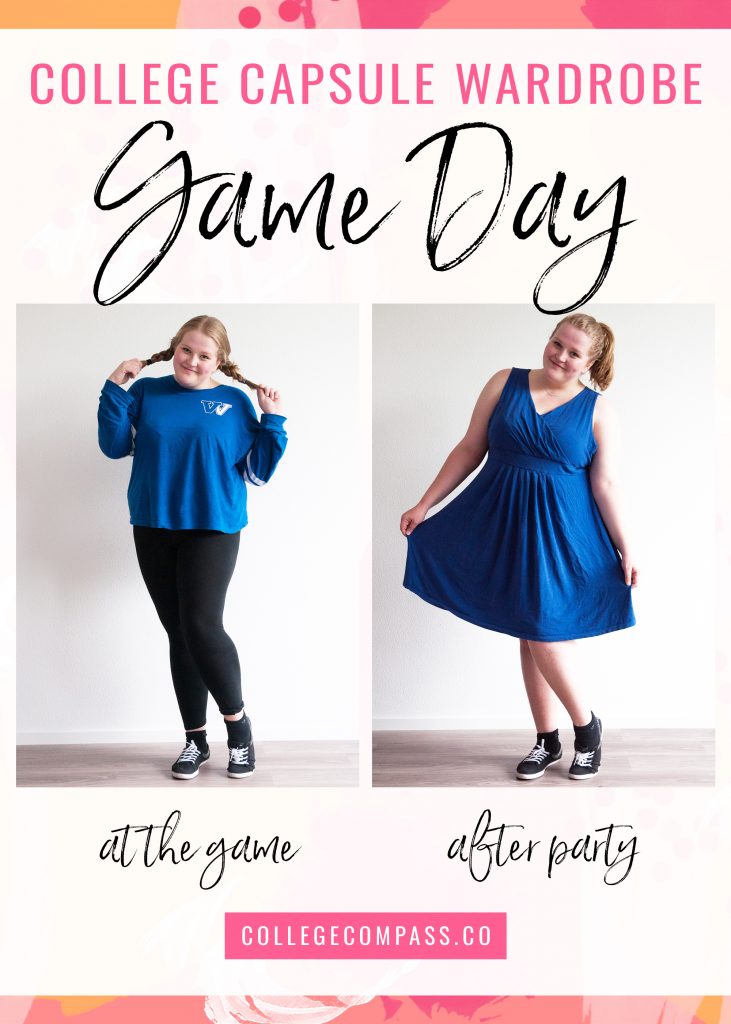 Date Night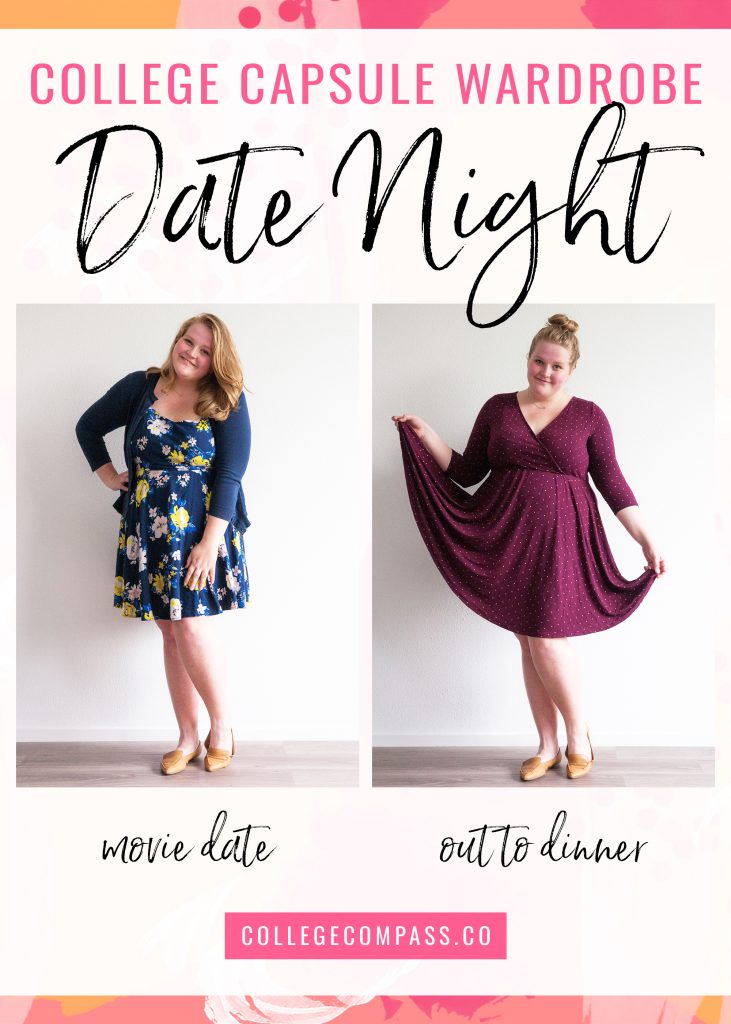 Night Out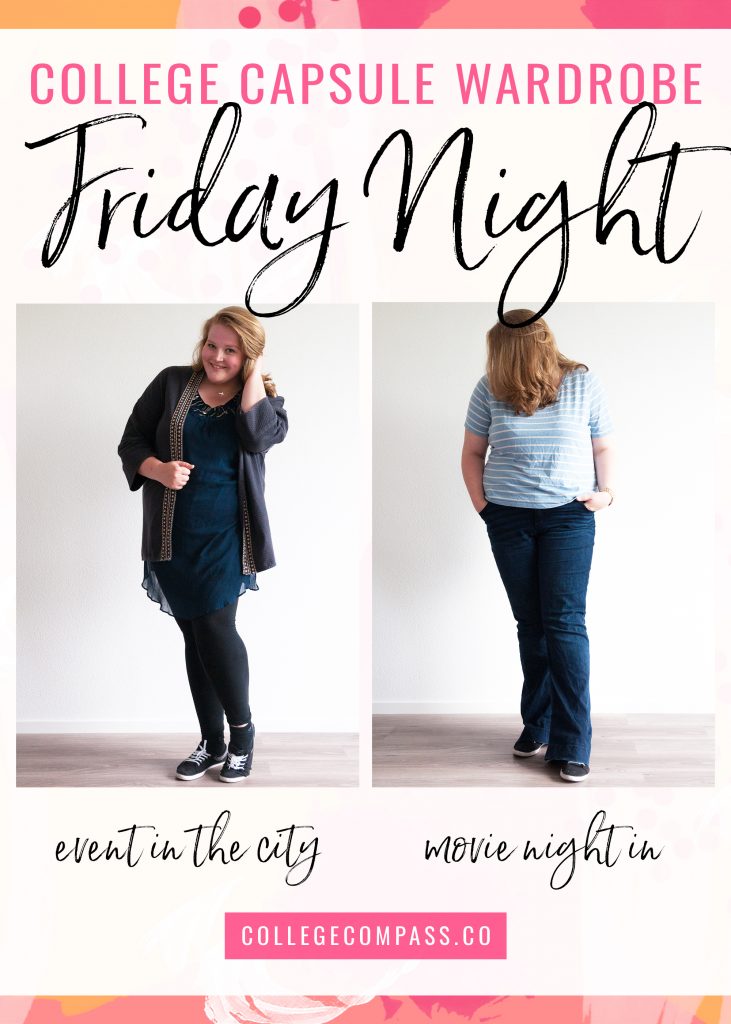 Outerwear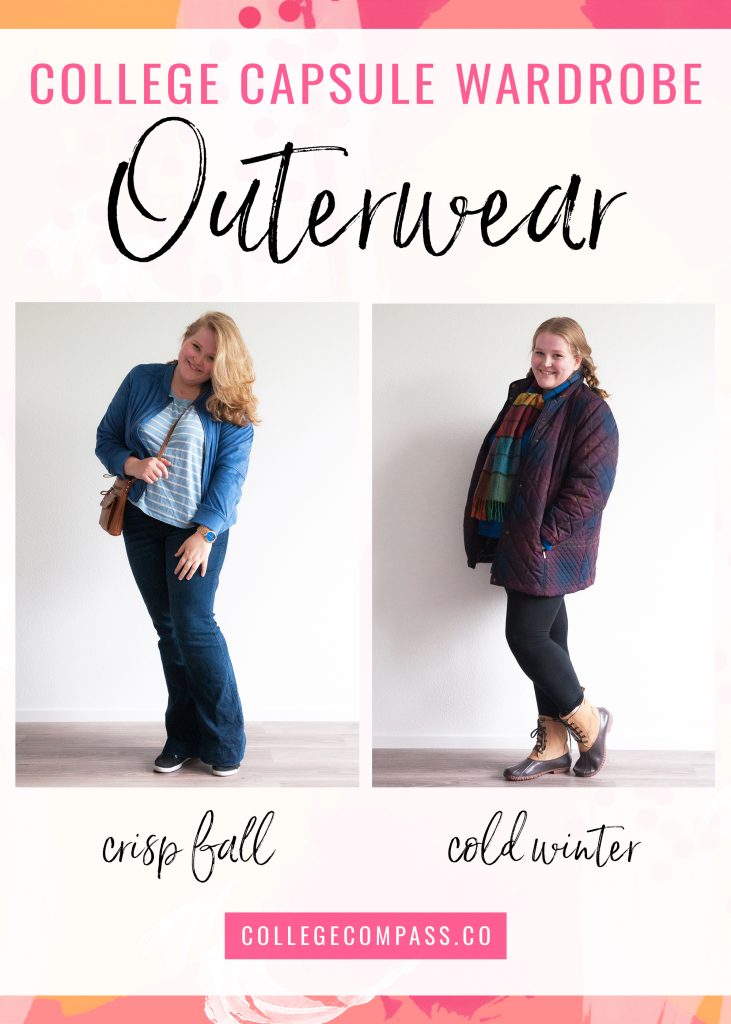 If you'd like to pare down your wardrobe, have a more manageable closet, save time in the mornings, and look cute every day, join the College Capsule Challenge. It'll save you time and money, and it'll make your closet feel exciting again. What's not to love?

What do you think of having a capsule wardrobe? Would you ever try it?