I love doing hair. Since my first year of college, when I cut all my hair off to achieve the "Wellesley Chop" (also known as a pixie cut), I've been doing elaborate hairstyles on my roommates and friends. With my hair back to its longer lengths, I'm now able to do them on myself as well. So when it came to graduation hairstyles, my skills were in high demand!
Today I'm sharing 35 graduation hairstyles for different looks and lengths, from natural hair graduation styles to short or medium graduation hairstyles, to elaborate buns and up do's. I'm also sharing 3 graduation hairstyle hacks for better photos and longer-lasting styles on your big day!
Graduation Hairstyle Hack: Tucking In Your Cap
You've probably seen this graduation hairstyle hack circulating on Pinterest, and I can tell you that it makes a huge difference in photos. Tucking in the front of your cap opens up your face, keeps from crushing your hair, and tends to make for better pictures. You can keep the hat secure with a bobby pin on either side; I recommend a black bobby pin so it doesn't stand out.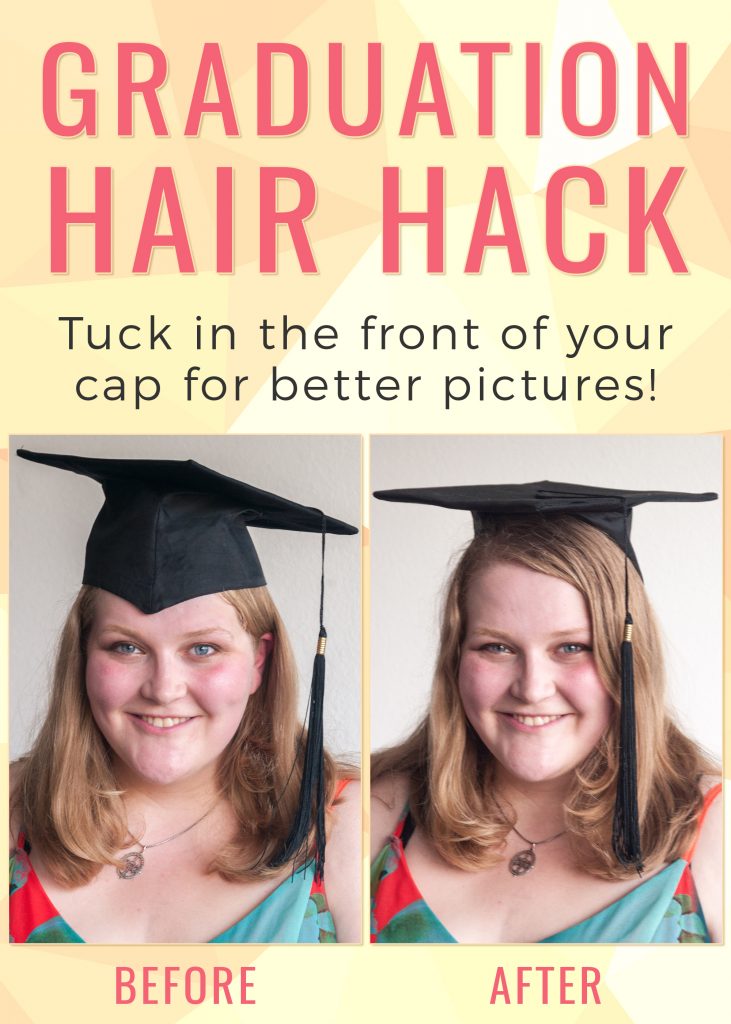 If you throw your hats in the air after the ceremony at your school, just remove your two bobby pins right before the big moment and go ahead! The tucked front will make your hat easier to find, too.
Graduation Hairstyle Hack: Hairspray Your Bobby Pins
Graduation ceremonies tend to be long, and when you're stuck outside in black polyester, your hair can get frizzy and you might sweat a little. To make sure that your hair stays in place, lay your bobby pins on a paper towel and spray them with hairspray, then shake the towel a little. This will make the bobby pins stick to your hair better and keep some fly-aways down.
Graduation Hairstyle Hack: Use Bobby Pins to Mark Where to Curl
If you're curling your hair for graduation, don't curl where the hat will be; this will make your head look bulky and will make the cap more likely to fall off. Instead, put on your graduation cap before you curl your hair and mark where the hat ends using a bobby pin. Curl below this line and then remove the pins for perfect graduation hair!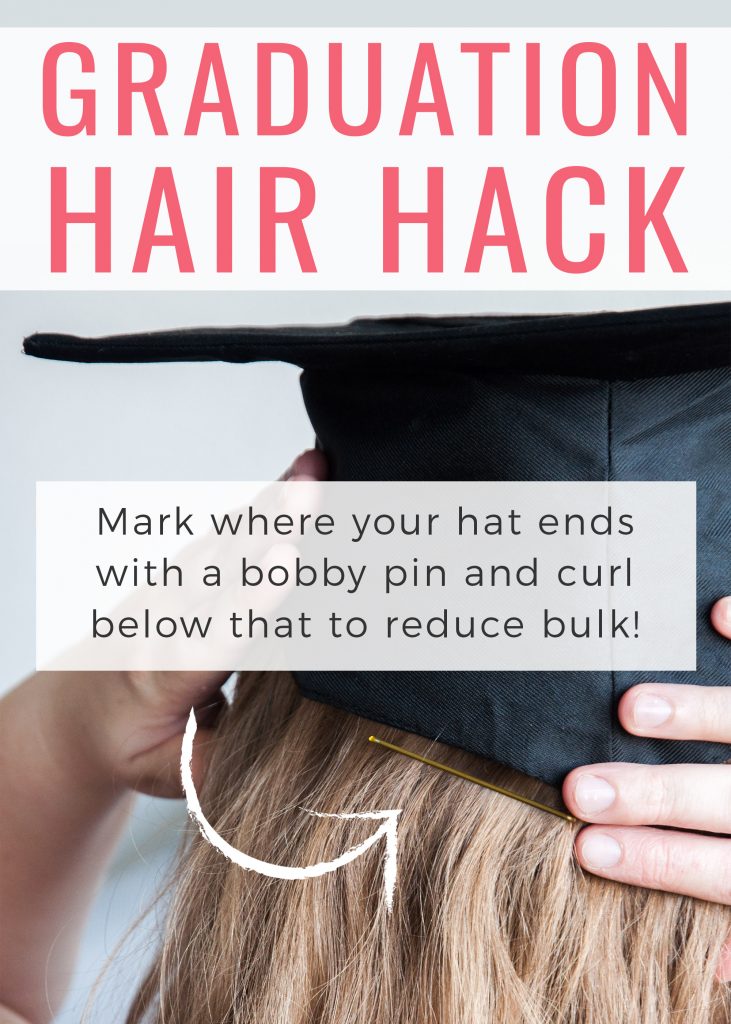 Graduation Hairstyles: Best Practices
1. Keep the crown of your head free for the cap. To make sure you remember to do this, you can use the bobby pin hack above. If you're doing braids, twists, or a bun, make sure that the detail will be visible below where your cap ends. Again, you can use the bobby pin hack to make sure you do this.
2. Practice before. Try out your hairstyle once before the big day, just to make sure it's what you want and that you know how long it will take.
3. Go for a look that works from all angles. You'll be photographed a lot on graduation day, so make sure if you're doing a side-pony or something pulled back, that the other sides of your head still look good. A few curled wisps in the front can do this nicely.
Graduation Hairstyles: Best Tools
Below are a few of the must-have tools that I used in doing these styles and that I use for any special occasion up-dos. Just a head's up that these are affiliate links, which means that I get a small kick-back if you buy any of these items through my links. This in no way changes or increases the cost of the item, and you are of course not obligated to buy through me! If you do, thanks in advance for making College Compass possible.
Hairspray to keep everything in place and make your bobby pins sticky!
Bobby pins, black, to pin your cap in place without the pin showing.
Bobby pins, in the color of your hair, to keep your hairstyle in place. I use these blonde ones.
Clear elastics to do pony tails, buns, twists, and braids.
Bun-maker in your hair color (also called a hair donut) if you'd like to do a bun. I used one like this.
Curling iron if you'd like to curl your hair. I like to use a wand without a clip so you don't get the wave where the clip meets the iron!
35 Graduation Hairstyles that will Look Great Under Your Cap
To help you look and feel your best on graduation day, I rounded up 35 graduation-ready hairstyles for different hair lengths and styles! These should all look great under a cap.
Graduation Hairstyles – Short Hair

Graduation Hairstyles – Medium Hair
Graduation Hairstyles – Natural Hair
Graduation Hairstyles – Half-Updo's

Graduation Hairstyles – Updo's
Which of these graduation hairstyles is your favorite? Let me know in the comments!