In your last year of high school, do your best to finish applications and round out your high school responsibilities. As part of the high school edition of my College Prep series, I'm walking students and parents through what they need to know to get a head start on college planning. Read this checklist for how to prepare for college as a senior in high school!
To Do's for High School Seniors Preparing for College
Ask teachers for recommendations as early as you can. Summer is a great time to do this, as most students ask in early fall or even early winter. It's important to give your teachers plenty of time to prepare for writing your recommendation. If they have a list of items needed in order to write a recommendation, like a transcript and resume, make sure to turn these in early.
Retake your SAT or ACT if you choose to. Not everyone is happy with their standardized testing score on the first try. If you'd like to improve your score from junior year, study over the summer and take the exam again in summer or early fall.
Get your college applications out of the way early. College applications can be stressful and demanding even when you're not also balancing school work. To help curb stress and put your best foot forward on your applications, it's smart to get most of your applications out of the way in late summer, after the applications are released. Even early fall is better than saving your applications for during midterm season!
Ask your counselor to submit your materials well before the deadline. Give your recommendation-writers enough time to write on your behalf. It's also always kind to follow-up with a thank you gift or note.
Remind your recommendation writers a few weeks before your deadlines. Teachers and counselors are busy people, and keeping track of everyone's differing due dates can be challenging. Help make it easier for them (and make sure nothing falls between the cracks) by sending them a reminder a few weeks before the deadline.
Keep an eye on application deadlines. Also make sure that you, yourself don't get forget when your deadlines are. It's always a smart idea to submit early, but if you can't, last-minute is always better than late.
Complete your scholarship applications. Again, earlier is better.
Fill out your FAFSA. Paying for college doesn't need to be impossible. There are lots of free online resources to help you fill our your financial aid forms; your parents and guidance counselor may be able to help you.
Visit the colleges you are accepted to. If and when you get accepted to college, make sure to visit the different schools you've been accepted to. Take a tour, sit in on a class, and talk with current students. You want to be as well-informed as possible when making a decision about the next four years of your life.
Review the financial aid packages you get with your family. While college may be feel like a personal decision, if your parents  paying for your education, it's a family decision. Review your financial aid packages with your family and go over what your options are.
Notify your chosen school and submit the deposit before the deadline. Congratulations! You did it!
To Do's for Parents of High School Seniors
Help your child fill out the FAFSA. This will take a bit of time to figure out, so doing it together will help save time and stress. You can find plenty of free online resources to help you as you fill it out.
Help your child remember to submit their documents and applications before the deadline. Try as they might, most teenagers just aren't gifted with a great memory for due dates. Make sure you know when applications are due so you can keep your child on track.
Review the financial aid package of the college that your student chooses. It's important to be informed about the financial aid package you're being offered. If you need extra clarification, call the financial aid office at your child's college. You can also read up on what kind of loans or grants they are offering online. Do some digging and make sure you're aware of what you are getting into
Celebrate. Your child was accepted to college! You did it! Make sure to celebrate this achievement as a family, if you can. It's truly a moment worth reflecting on!
Did I leave anything out? What advice would you give to college seniors for preparing for college?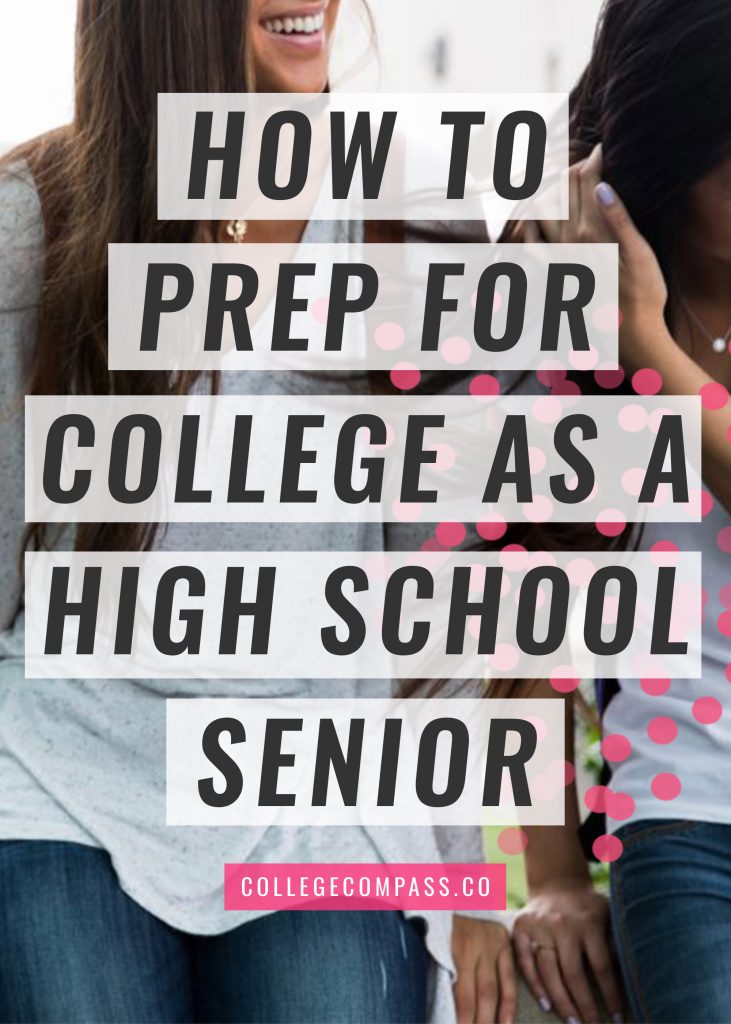 This post was originally published SaraLaughed.com. It has been modified and improved for use at College Compass with permission of the author.