Your college journey doesn't begin when you first step foot on your campus. It starts years beforehand, as you and your family prepare for the college applications process. As part of the high school edition of my College Prep series, I'm walking students and parents through what they need to know to get a head start on college planning. Read this checklist for how to prepare for college as a sophomore in high school!
To Do's for High School Sophomores Preparing for College
Check in with your guidance counselor to make sure you're on track for college. As I noted in my college checklist for high school freshmen, most colleges require the following from high school students:
Four years of English
Three years of social studies
Three years of mathematics
Three years of science
Two years of foreign language
(Source: StudentAid.Ed.Gov)
Check in with your guidance counselor to make sure that you're on track to fill these requirements and whichever graduation requirements your high school may have.
Keep your grades and courses up. Though Junior and Senior year are really when colleges focus in when looking at your grades, it's important to remember that the better you do in Freshman and Sophomore year, the better-prepared you'll be for success later on. Keep doing your best, but remember that grades aren't everything; what also matters is that you're a balanced and well-rounded person.
Build on your extracurriculars. Speaking of being well-rounded, sophomore year is the perfect time to start building on your extracurriculars. It's wise to begin planning how you want to come across in college applications and build your extracurriculars around that. If you're an athlete with a passion for music, make sure you're involved in your school sports teams as well as in orchestra or choir. If you're an aspiring artist, take art classes outside of school, or volunteer to teach art at your local community center.
Read. Read magazines, newspapers, and books. It will help you build upon your vocabulary, your reading ability, and your conversational skills.
Take the PSAT. The PSAT or NMSQT is a college preparatory exam that helps you build your skills for the SAT and enters you into a merit scholarship contest. You can learn more about it on the College Board's PSAT page.
Get extra help if you need it. As I said in the freshman checklist, there is no shame in getting extra academic help when you need it, no matter how old you are or how you compare to your friends. If you need extra help, turn to your teachers, guidance counselor, school learning center, or an outside tutor. There are also free online resources available like Khan Academy or Crash Course.
To Do's for Parents of High School Sophomores
Learn more about college costs. As a parent, financing your child's college education is likely the most stressful part of preparing for college. The best way to overcome this stress is to learn about college costs and the resources available to you. This info sheet may be a good place to start.
Visit a college with your sophomore. Seeing a college campus in person is a great way to get your student excited about college. Find a college in the area and take an afternoon off to visit it together and get your child engaged.
Check in regularly on grades. Again,  make sure that you're tuned in to your child's academic performance. Keep an eye out for areas where they may need extra help.
Begin reading up on exams and college applications. Though it may seem early to start reading about the college application process, it's a good idea to be ahead of the curve on this one. Do a little online digging on the SAT, ACT, and SAT Subject Tests, and skim a few articles about college applications. This will help you feel prepared for the coming year, and leave you ready to answer any questions your sophomore may have as they begin to prepare for college applications themselves.
Did I leave anything out? What advice would you give to college sophomores for preparing for college?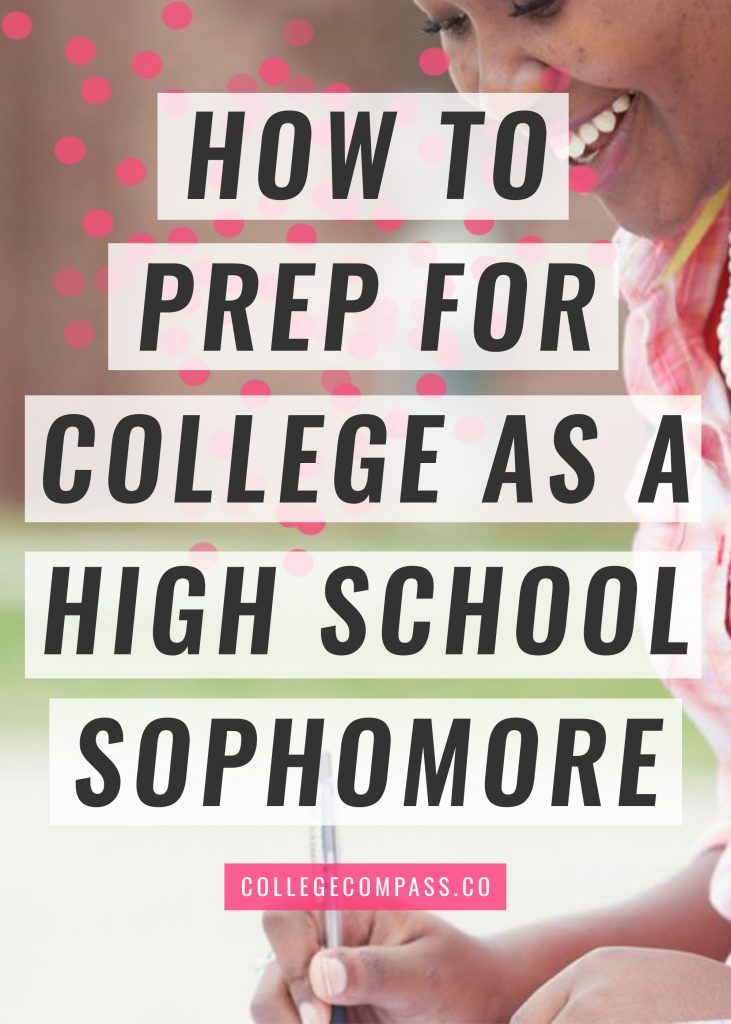 This post was originally published SaraLaughed.com. It has been modified and improved for use at College Compass with permission of the author.