One of my favorite things about the college blogging niche is how many passionate bloggers there are. Just a few years ago, when there were only a few of us, there were fewer perspectives on how to study, what works, and what doesn't. Now that the community has grown, there are more voices; and the more perspectives we have, the easier it is to find what works for each individual reader! But because so many college bloggers draw primarily on their own experience, I have extra respect for bloggers who go the extra mile and really research which methods work and why.
This is part of the reason I really admire Samantha from As Life Grows. Samantha's work extends beyond her personal experience and really digs into research and objective information that works for a variety of learning styles, which I love. She blogs about a variety of college topics and also manages a vibrant Facebook group for students. Her social media is on-point and her mailing list is super useful, so when she reached out to me a few months back to ask me to review her ecourse, I of course said yes!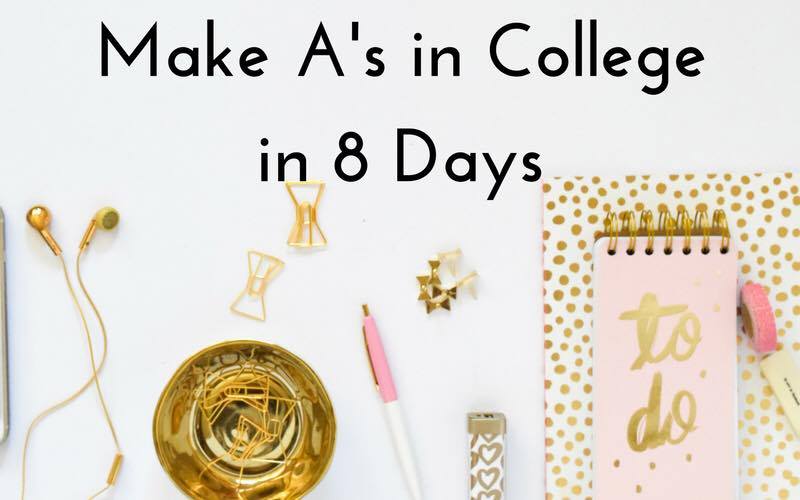 Make A's in College in 8 Days is an ecourse guide to college. Samantha's course is divided into 5 main sections: Preparing for the Semester, In-Class Success, Studying for Exams, Other Assignments, and Preparing for Finals Week. Each section includes different posts or pages divided by topic, like "Understanding Your Syllabi" or "How to Take Notes." What I really liked about these sections was that they went beyond normal college blog posts; each included a different actionable steps, screenshots, and bonus downloads or resources, as well as some research on why certain methods were effective.
I was especially impressed by the section on avoiding plagiarism, which is a subject that I haven't seen covered by college blogs before. Samantha not only talked about the ethics of avoiding plagiarism and outright copying, but also talked about the steps that you need to make sure you're quoting and citing properly. Her transparency and thorough process will be really helpful for new college students who may not have learned these tricks in high school.
What I Love About the Course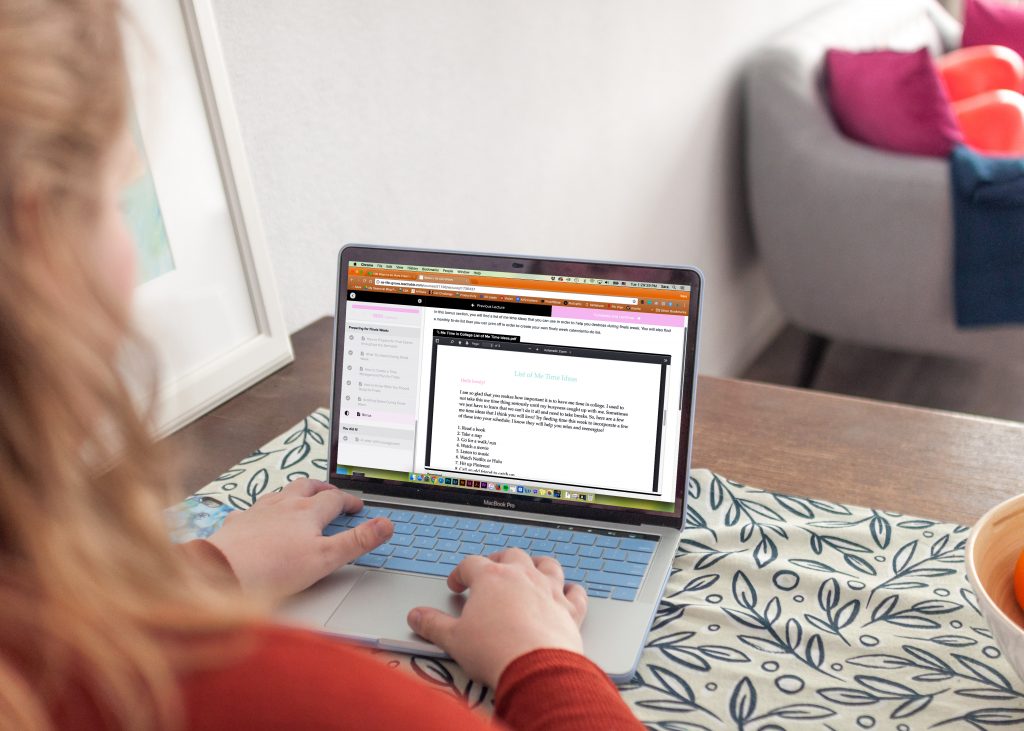 My favorite thing about this course is the bonuses that come at the end of each section. Samantha provides extras like PDF workbooks and a sample Trello board. These resources are really useful for taking the tips she's offering and applying them to your life. I also really like how in-depth she goes in different areas and for different topics. Some college blogs are so eager to cover it all that they don't go deep, but Samantha's course covers a variety of topics without skimming over any of them. It's clear that she has really devoted a lot of time and effort to this course.
What I'd Love to See More Of
Samantha's course is text-only, which is great for students who learn through reading. In the future, I'd love to see some of the content perhaps expanded into visual or video content for those students who find it easier to learn from pictures, video, or audio. That said, Samantha already does her best to break up the text with links and downloads that make the information feel actionable, so while I'd love to see more video or photos, the course already feels interactive and resourceful!
How to Join
If you're interested in learning more about Samantha's course, or if you'd like to sign up, you can check out her course page here. I also really encourage you to check out her blog, As Life Grows, where she offers really great advice and resources for college students looking to improve their grades and their lives. I have a deep respect for Samantha and her blog and I'm really honored to be sharing about her class with you; please feel free to ask any questions in the comments, or reach out to Samantha herself at As Life Grows!